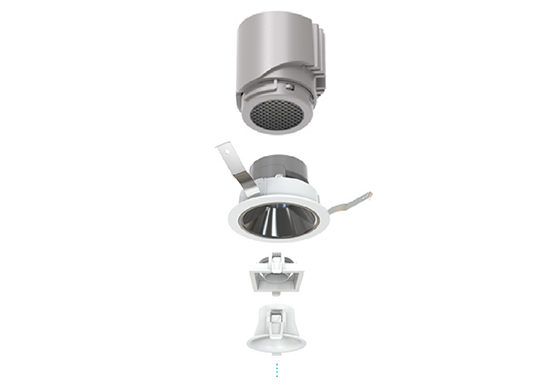 ELLA system, a system with the most innovative structure--the modular concept. The whole unit is comprised of 2 main parts.
Both parts come with a wide range of options. Combining whatever the way you want, you can DIY to get numerous solutions by yourself.

To accommodate Ella to anywhere and make it a completely powerful system, we build it with full range of sizes and wattage for you to choose.
Wattage: 5W, 10W, 15W, 20W, 25W, 35W Cut-out: 55mm, 65mm, 75mm, 100mm, 120mm

With more than 23 versatile mounting rings in different designs and dimensions, Ella can be your lighting solutions for almost any projects, whether it is hotel, residential, commercial, deep anti-glare or wall washing etc.

Things have never been so much easy before. Instead of keeping searching for new items for different projects, you now have the most innovative solutions fitting all your projects.
Four kinds of facial rings can be selected to create different light spot atmosphere and outstanding light shapes: optional oblique / direct / elliptical / small round holes.

The excellent 38-degree cut-off helps you easily get rid of glare annoyance and provides you with great visual comfort to meet the need for healthy lighting.
Honeycomb and soft lens upgrade the anti-glare function and make UGR<6.

Get Ella display case to present the customers with a full-range lighting solutions instead of showing luminaires once at a time, and in a neat and professional way.