ELLA Downlight System
Super Modular Design Brings Infinite Possibilities!
As the latest generation of ENCORE downlight system, ELLA has not only kept the aesthetic design, precise light control and great UGR, but also has upgraded the versatility to a new level with the super modular design in a compact format. ELLA's LED module matches with numerous mounting rings within the system, offering a wide range of options particularly for hospitality, residential, and any indoor commercial setting. On top of mounting rings, ELLA also provides many possibilities in shape, round or square; adjustment, fixed or adjustable; size and wattages.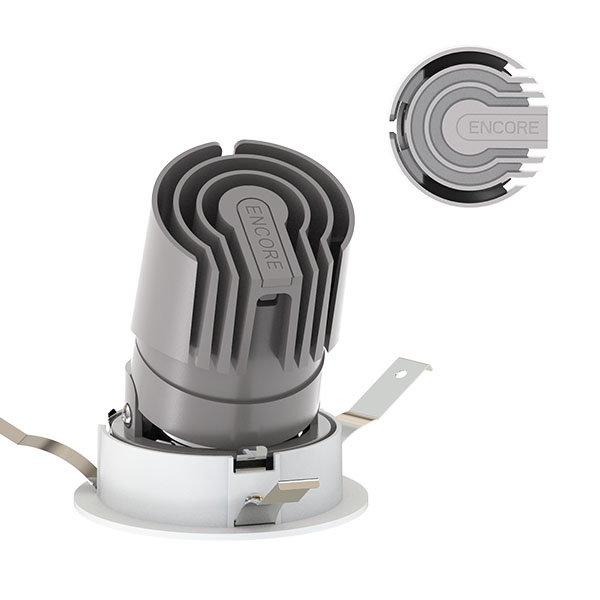 Aesthetic and Practical Design
At first glance, ELLA impresses customers with its distinguishable e-shaped design, which represents ENCORE, ELLA, and an ultra easy life.
Take another closer look, ELLA downlight is in "e" shape to realize the stack effect so that air flows within the heatsink, and the heat dissipation can be ensured to avoid overheat. Therefore, ELLA could truly realize high wattage in a smaller size (e.g. cutout 75mm, 15W. The average 75mm LED recessed downlight generally could only make 10-12W)
Plus, ELLA's top logo can be customized into one of your own, so that your product could be instantly the superstar product boasting all the competitive features above.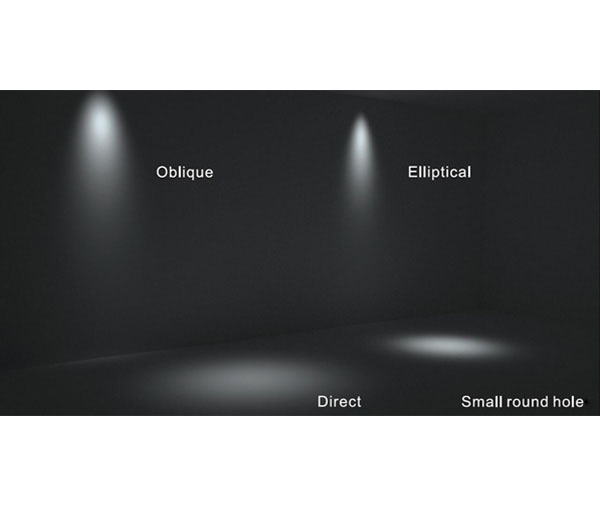 Atmosphere-boosting Lights
Light is not just a brightness that lets you see things, it sets a mood and creates atmosphere. ELLA series offers 4 kinds of quality lights-oblique, direct, elliptical, and small round- to set different moods and create different atmospheres. Each of the four options will bring you a unique atmosphere lighted up in a precisely controlled lighting effect.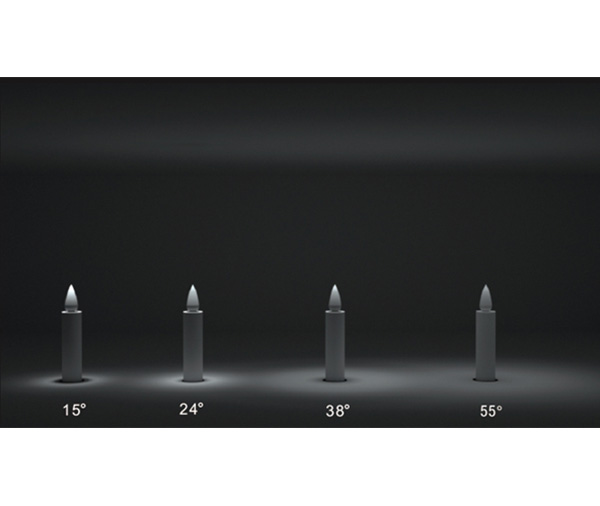 4 Beam Angles
Available in 15°, 24° , 38° and 55° beam angles, ELLA LED recessed downlight allows enough flexibility for you to choose from narrow beam on small objects requiring accent lighting to flood light on walls lacking general brightness. But no matter which angle is needed and where it is needed, one thing that remains the same is ELLA's high-level light quality and evenly blended light edge.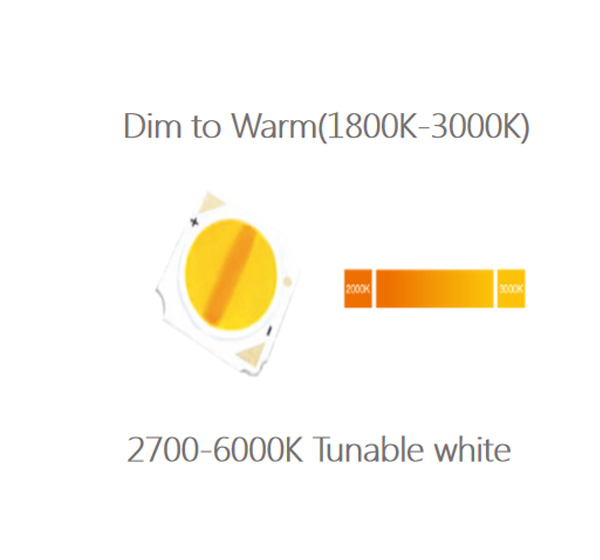 Different LED Sources
Like every other product, ELLA comes in the most commonly used CCTs including 2700K, 3000K, 4000K, 5000K, and 6000K (all within SDCM 2-3) to meet the most general lighting requirements in the market.
But unlike every other product, ELLA also provides 2 more flexible dimmable LED downlight solutions for those who prefer a less-fixed CCT. Therefore, for luminaires less than 15W, our customers could choose Dim to Warm for a warm and cozy atmosphere from 1800K to 3000K; and for luminaire over 20W, tunable white could be used to enable a space to be more flexible from 2700K to 6000K for both a warm and a mind-refreshing effect.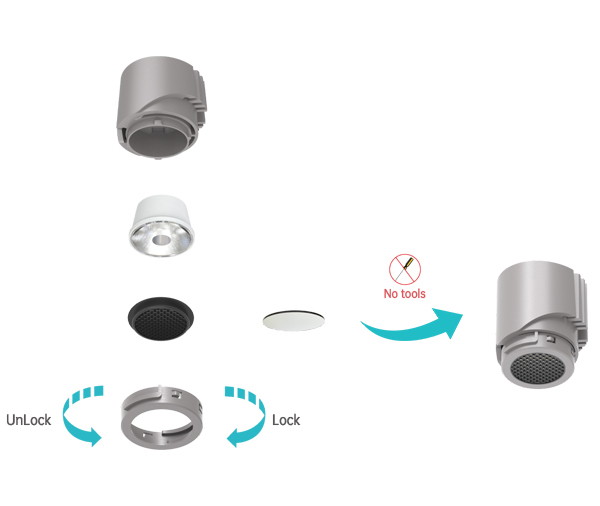 Super Modular LED Engine
ELLA's LED engine is designed with super modular concept, allowing no-tool twist-on-off installation from lens to accessories. With this ultra easy product, you may prepare the luminaire stock in the most convenient manner and respond to lighting projects with different beam angle and anti-glare requirement in the most efficient manner.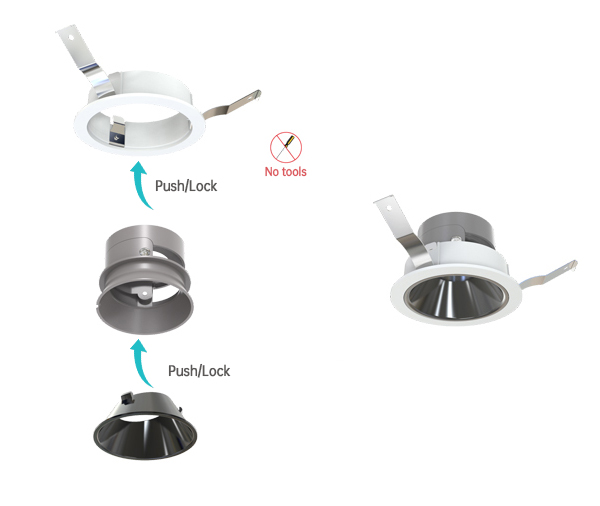 Super Modular Mounting Ring
ELLA's super modular design transforms the installation process from a risky ceiling-ruining process to a fun and easy surprise-creating experience. ELLA has over 23 mounting rings including round & square, trim & trimless, fixed & adjustable, and appearances of different styles. Every one of them requires only an easy push to be installed in the ceiling.
When changing the secondary reflector, you could totally cast tools aside, because a gentle pinch would help you take the LED engine out and the mounting ring stays put, avoiding unnecessary scratches on your precious ceiling. Therefore, the super modular design not only protects your ceiling, but also ensures luminaire installation to be easy and efficient.
There are also 3 classic reflector colors to match with various environments and moods.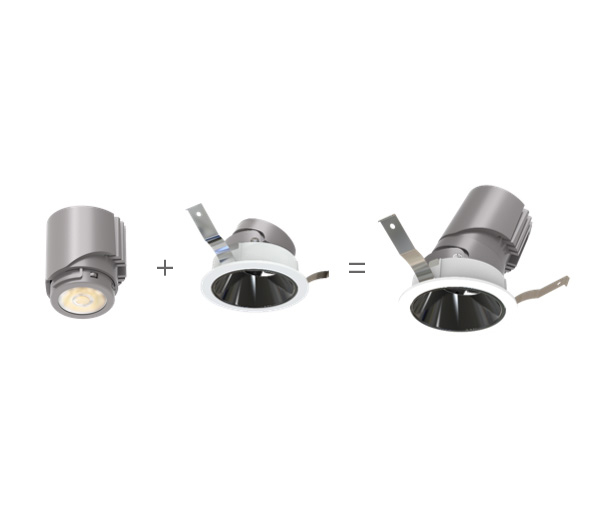 Super Modular Luminaire
ELLA has made itself super modular from inside out. You can easily make a brand new luminaire by a quick and simple twist of the vast range of LED module + mounting ring combos. All these infinite possibilities will make the luminaire fit right into any commercial, residential, and hospitality settings. Therefore, no matter the demanding customer is expecting a led recessed downlight solution for his store, hotel, restaurant, high-end bathroom, or the sweet home, you can always say yes.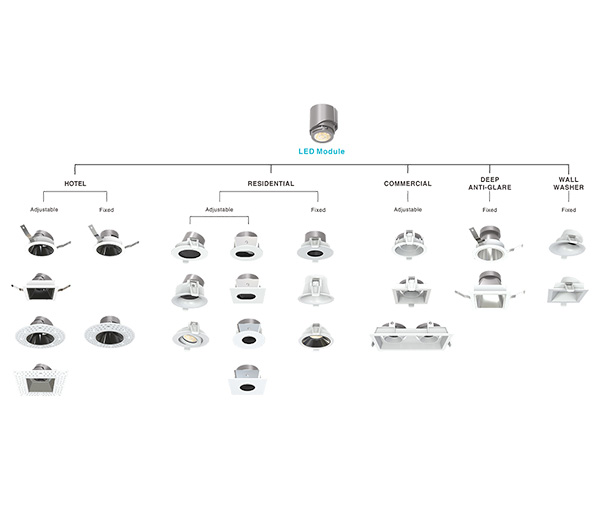 All In One Package
With more than 23 versatile mounting rings in different designs and dimensions, ELLA is no doubt the led recessed downlight solutions for any project, ranging from hospitality, residential, commercial, deep anti-glare to wall washing.
Powerful Lighting Solutions
Specs
| | |
| --- | --- |
| Application: | Recessed luminaires,Pendant |
| Light source: | COB LED |
| Light solution: | 15°,24°,38°,55° |
| SDCM: | <3 |
| Watt: | 5W-35W |
| CCT: | 2700K,3000K,4000K,5000K |
| Luminous: | 347lm-2875lm |
| Control option: | On/off,Triac,DALI,Phase dim |
| CRI: | 80+,90+ |
| Module: | EM050,EM060,EM070,EM090 |
ELLA Family Overview Products